Gallery -
Anniversary Quilt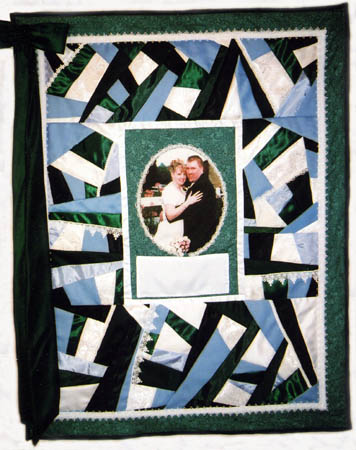 I made this quilt at the request of a young woman whoe best friend was married in September 2006, after having been a bride's maid in nine previous weddings! She requested that the quilt be made from the many bride's maid dresses that her friend had worn, with the wedding protrait in the center of the quilt. She plans to give it as a First Anniversary gift in September.

Because the dresses were made of a variety of specialty fabrics, such as satin, taffeta and silk, I suggested a "Crazy Quilt" pattern, because that design requires a foundation which stabalizes the fabrics. I added a number of pieces of fancy lace and pearl trims, small silk roses under the protrait, and finished the quilt by attaching a beautiful green satin bow from one of the dresses to the upper left corner of the quilt. I also encorporated some of the fabrics from the dresses on the back of the quilt.

My client was thrilled with the result. She plans to add embroidered names, dates and other details to the quilt herself.

Let me know if you are interested in a similar project. I will be happy to work with you to make a truly one-of-a-kind Memory Quilt!