"Carousel" Wall/Crib & Lap Quilt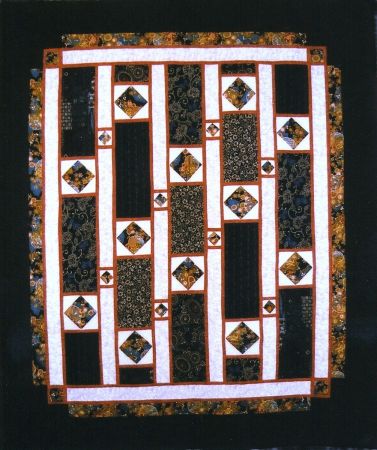 This is a really fun, "Fast and Easy" pattern that is different in concept from most traditional quilt designs. The design does not rely on "normal" block construction, but instead features large areas of fabric alternating with square-in-a-square blocks and set up in columns. Sashing is used to set off the other design elements. Sizes range from crib (36 by 43") to lap size (53" by 65"). Diagrams for larger (bed size) quilts available on request.

This design provides a great opportunity to show off a collection of your favorite fabrics. The quilt looks great in Asian fabrics, bright "kid" prints, batiks, or just about any style you prefer.

See other color ways and larger photos on my Classes page.

Pattern includes instructions and detailed diagrams for several sizes of quilt, as well as a number of variations.