Welcome to Something Sew Fine Quilt Design!
---
"

Let the beauty you love be what you do.
– Rumi
I am excited to announce that my first novel, After the Storm, has been re-released as a second edition, along with its sequel, Sarah's Quest. Both books are now availalble as paperbacks and as e-books.
Please visit www.caryflanagan.com for details and to order through Amazon. ************************************************
You can find me on Facebook under Cary Flanagan (personal) and
Cary Flanagan, Something Sew Fine Quilt Design (business). Please "Like" me by clicking on the FB button at the top of this page. Facebook is a great way to keep up with what's going on in my life and my work and to get to know my quirkier side! See you there!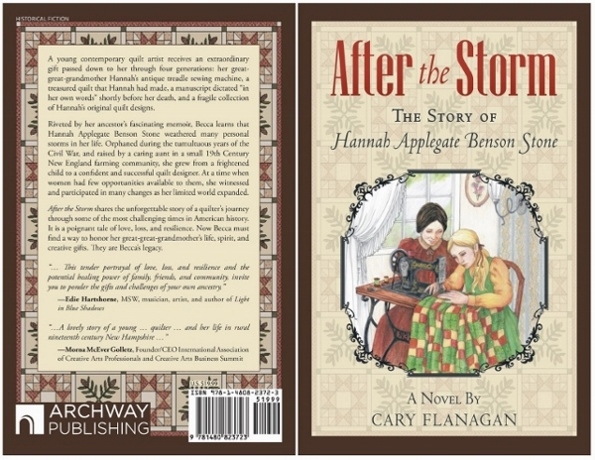 Available in softcover and hardcover from the "Patterns" Page
I will personally autograph each copy sold from this site
Books will be sent via Media Mail to US addresses only
For sales outside the US, please contact me directly for shipping information
Available on Consignment at local quilt shops.
Also available as an e-book from Amazon.com and barnesandnobles.com
*****************************************************

My patterns are available as pdfs via e-mail - no postage and handling fees and (almost) no waiting! Simply choose a pattern, click on the 'buy now' button (ignore the box asking for your 'Destination Zip') and in the "Instructions to Merchant" (in Pay Pal) indicate you want the pattern sent as a pdf via e-mail. You may also request the pdf by contacting me through the Contact form or by e-mail.

Unfortunately, because of the EU VAT (European Value Added Tax) rules which went into effect January 1, 2015, I will no longer be able to sell my patterns as pdf's to customers residing in the UK or any member country of the EU. I have been forced to put a block on any sales that are made in currencies other than US dollars. I apologize for this inconvenience.
You may also purchase any of my patterns and my book through www.quiltwoman.com
Contact me directly by clicking on 'Contact' button and filling out the form.
******************************************************************
My quilt patterns are published and distributed by Nancy Dill Designs, Inc. d/b/a QuiltWoman.com publishing Co.
_____________________________________________________________________________________________________________________________
All purchases may be paid for on-line through Pay Pal. You may also pay by check. Any purchase made by check will be shipped after the check clears. Shipping/Handling will be added at checkout or by arrangeement for packages being sent outside the United States..


To find out more about me and my work, please click About Me. Feel free to
Contact Me
with any comments or questions you may have. I would love to hear from you!

Last updated 11-7-21