Workshops and Trunk Shows:
Contact me to ask about current Trunk Show and Class offerings. I am only available on a limited basis at this time. Thank you.
I specialize in teaching beginning to intermediate level quilt classes. My classes are based on my own original designs. I am available to teach at quilt shops and for quilt guilds within a two-hour drive of Candia NH or by special arrangement. (I require mileage reimbursement at the then current rate and if the trip requires an overnight stay I require comfortable but not necessarily expensive lodging).
I would like to bring my books and patterns to vend at any quilt guild presentation.
I love sharing my knowledge and passion for quilting and quilt design and would be happy to hear from shop owners or Program Chairs of quilt guilds to discuss details. My Trunk Shows are fun and interesting with many quilts to see from some of my earliest attempts at quilting from more than 20 years ago up to my latest sample quilts from new patterns. My classes are also fun and relaxed - a great opportunity for students to be one of the very first to try out one of my new patterns and techniques.


Classes

"Bent Out of Square" (from Stacking a New Deck)
A fun, "no templates" project designed by Karla Alexander, this lap quilt uses a variety of fabrics of your choice. Especially beautiful in batiks and hand-dyes, this quilt works with many styles and color-ways of fabric. Learn to make dynamic blocks with free hand rotary cutting. You will also learn how to piece gentle curves. Level: Advanced Beginner
"Carousel"
This class is based on my original pattern, "Carousel". This design can be made in several sizes, including wall hanging/Crib size, Lap quilt, or larger bed sizes. It is an unusual pattern since it is not based on traditional block layouts. It is ideal for showcasing a collection of your favorite fabrics when you can't bear to cut them up in small pieces. This class is ideal for beginning quilters but is also fun for more advanced students who are looking for something different.
"Fancy's Star"
This is a design that I adapted from "Block Explosion" by Cindy Casciato. The design utilizes very large blocks (18" each) plus a pieced border (my adaptation) to create a lap quilt. This pattern is also ideal for larger (bed-size) quilts. It is easy enough for beginners in a classroom setting, where students will learn the basics of rotary cutting, accurate 1/4" seams and piecing, and how to assemble and complete a quilt. It is also fun for more advanced students as a project class.

"Moon Glow"
I designed this pattern to take advantage of the wonderful fabric panels and large scale prints currently available. The design features a center panel and is surrounded by "moon blocks" and other fabrics that complement the colors and design of the central motif. Narrow sashing sets off the different design elements.

This class can be offered as a one day workshop (6-7 hours) for more experienced quilters (with pre-cutting of fabrics required) or as a two-three day class (6-9 hours) - (completion of top only)

Memory Quilt
Use some of your favorite photos to make a personalized memory quilt. You will learn simple block construction and how to make an oval "frame" to showcase your center photo. Please bring a selection of photos to first class. (Photos will be transferred to fabric by instructor and returned to you unharmed at the second class.)

Students will complete the top in class and we will discuss options for completing and embellishing the quilt. Level: Confident Beginners through Advanced.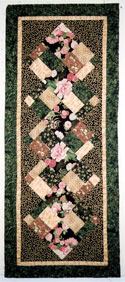 Rule of Thirds
Create a festive table runner for your home or as a gift. This quick and easy pattern looks wonderful in many different fabric styles and colors. There are four different layout options. The class is ideal for beginning quilters with basic rotary cutting and sewing skills, but also fun for intermediate and advanced students who are looking for something new. This table runner is my own original design.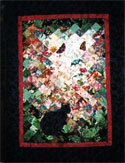 Water Color Quilt Workshop
Have fun playing with color and value in this watercolor class. Learn how to use fabric squares like paint to create areas of dark and light on a gridded fusible foundation. Students will complete the top of a small wall hanging. Level: Confident Beginners, but also fun for more advanced students.
Back to top
---
Teaching Schedule
I am not currently teaching but welcome inquiries and invitations to teach any of my patterns or to present trunk shows of my quilts..