"Gardens of Serenity" Wall hanging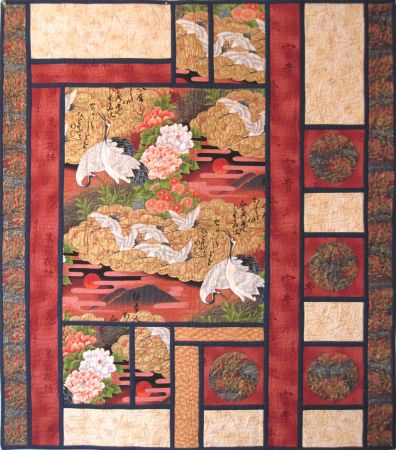 Step into a tranquil garden in this elegant wall hanging. This Asian inspired design is ideal for showcasing your favorite panels or large scale prints. Although all the fabrics used in this sample are from Kona Bay and Seattle Bay Fabric Company, you do not have to use Asian style fabrics to make this design. Use any large scale fabric that makes you feel relaxed, as if you were in a garden and then choose coordinating prints to go with it.
All diagrams are in full color for clarity.
This quilt and pattern were first featured in Asian Fabric Magazine, Issue #18, Winter 2010, published by Kona Bay Fabrics.
Size: 42" x 47"
Level: Intermediate